Deployable Tactical Power Solutions
Portable
Rugged
Light weight
High-reliability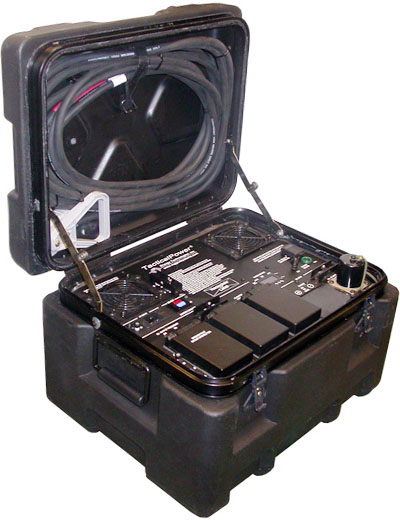 Portable UPS and Inverters
12 & 24 VDC to operate from any vehicle
Computer-Grade Power
Medical-Grade Power
Reliable Rapid Response Power Products
​Energy Technologies' (ETI) products are the standard in rugged, high-reliability power conditioning for the defense, industrial, medical and telecommunications sectors. These modular products are in use around the world including Intelligent UPS, Power Inverters, PDUs, Power Conditioners, Frequency Converters,  Portable Generators, Solar Power, Fuel Cells, Computers, Transportable shelters and Peripheral Equipment.
ETI offers a wide range of products, but this site focuses on our Emergency response line. The rugged 911Power Series of power conditioning, generating, cooling & computing products are readily deployable worldwide, quickly providing the War-fighter with dependable computer-grade power or medical-grade power for triage in the field.
Transportable Inverters®: Unlike other power inverter solutions, the 911Power true sinewave inverters are self contained and can be quickly setup in the field without any tools. Standard NATO or Anderson Slave cables allow quick connection to any First Response Vehicles bringing AC online in less than 2 minutes.
 Power Distribution Units: come in all shapes and sizes to meet ETI's customer requirements. Features range from simplistic to sophisticated intelligence, from local control to remote control, from commercial-off-the-shelf (COTS) to entirely custom.
Transportable Generators®: Unlike most generators, these light weight, Transportable Generators® produce computer grade AC or DC power. In addition, most of these units are designed to use jet (JP-8, JP-5) and diesel (DF-1, DF-2) fuels. These fuels are usually more readily available in the field. 
Portable Solar Power: These light weight, portable solar power products produce computer grade DC and/or AC power. The Transportable Solar® line includes rugged solar panels, solar charge controllers, battery chargers/eliminators and solar UPS units in several  configurations.
Global Transportable UPS® & Power Conditioners: Designed to be deployed worldwide, ETI's global UPS and power conditioners convert any world voltage and frequency into clean, true sinewave 50, 60 or 400 hertz AC power; allowing computers and vital equipment to be reliably used anywhere.
Transportable Environmental
Control Units (TECU): are available to meet your cooling needs. Built into rugged enclosures, our portable rugged air conditioning systems will keep your vital electronics cool, hot, or humidity-free enough to function!
Contact ETI by mail at:
Energy Technologies, Inc.
219 Park Avenue East
Mansfield, OH 44902-1845
USA
Contact ETI by phone or fax:
Voice: 419-522-4444
FAX: 419-522-4466